Book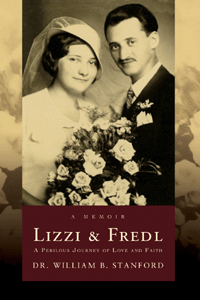 2010 Readers Favorite
Gold Medal Award Winner
Lizzi & Fredl: A Perilous Journey of Love and Faith
by Dr. William B Stanford
Podcast of Radio Interview Is Now Available
Filled with the overwhelming power of the human spirit, this is the true story of a young couple who escapes from Hitler's Nazi-occupied Austria and begins an arduous seven-year odyssey to freedom. The book attained both Publisher's Choice and Editor's Choice.
Description

Austria, 1938. Europe trembles under the shadow of Hitler and the spreading threat of Nazism. Though some Austrians welcome the idea of belonging to the Fatherland once more, many more fear such a day. The Steiners are one such couple that dreads that ultimate day.

They have carved out a successful life for themselves in Vienna. Twenty-seven-year-old Fredl is an accomplished master jeweler, while twenty-six-year-old Lizzi is a professional dressmaker. When Fredl receives papers ordering him to Munich, Germany, to serve the Nazis in their war preparations, the couple knows they have no choice: they must leave Austria. As Hitler and his troops gain force in their homeland and annex Austria, Lizzi and Fredl endure a harrowing flight to France, uncertain whether they will ever see their country again.

But France holds no safety for them. Fredl is captured by French Nazi sympathizers and must outwit his captors to survive in Vichy-controlled concentration and labor camps. Separated from Fredl, Lizzi evades arrest and relies on her guile and chutzpah to search for her beloved husband.

What follows is an incredible seven-year odyssey filled with danger and endurance. From their long, arduous journey to Paris to Fredl's unbelievable rescue from a train bound for a Nazi death camp, Lizzi and Fredl delivers a remarkable true story of courage, faith, and overwhelming love.
---